DIS-72, HF BEAM, DISCOVERER 40M, 2 ELEMENTS, 2 BOXES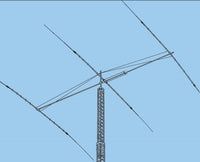 TRY OUR DIR-73 TO CONVERT FROM 2 TO 3 ELEMENTS "Director Kit 73
Converts the Discoverer 72 into a three-element beam. Even more amazing, its all on a 35 foot boom, outperforming the other brands that are much larger."
Discoverer 72
This two-element 40 Meter beam has a unique hairpin loading system. It delivers superior performance.
Feeds with 50 Ohm coax and comes factory pre-tuned with Hy-Gains exclusive BetaMatch
Tiltable boom-to-mast bracket and stainless steel hardware is included. Hy-Gain high power BN-4000 balun is recommended.
Product Manuals
Download Product Manual