H-40, 36FT ROHN STEEL TELESCOPIC MASTS 36 FT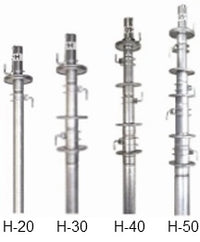 Vertical Mounting Accessories

20/30/40/50 foot Telescoping Masts

Telescoping masts are pre-galvanized and come preassembled with hardware. Erecting mast is made by simply connecting guys and brackets to the attached heavy duty rolled edge guy rings and clamps, extending the sections, inserting locking cotter pins, rotating tubes to locked position and tightening the clamps. Features interior tube flanging combined with double-crimped exterior tube to produce stronger, more stable joint than common masts. Also prevents sections from accidentally pulling apart and allows easy disassembly, pulling each section through lower end. Each section extends deeper into lower tubes than other designs, adding more structure stability. 1 ¼", 16 gauge galvanized tubing for top, other sections are 18 gauge.


H-20 - 19 feet extended, 2 sections. 
H-30 - 28 feet extended, 3 sections. 
H-40 - 36 feet extended, 4 sections. 
H-50 - 44 feet extended, 5 sections. 
All above models ship by truck only.

H-950 - 34'ext., 5 sect. UPS shippable.