LP-2500, IT, LOW PASS FILTER, 2500W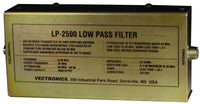 Keep peace with your neighbors by suppressing harmonics at the source with Vectronics LP-2500 Low Pass Filter. use between transmitter and antenna or tuner. Reduces TV interference caused by harmonics from your transmitter.
Vectronics Low Pass filters suppress harmonics appearing in the TV bands. They feature a Nine-pole Chebyshev design. Insertion loss is only 0.25 dB at 30 MHz. Impedance is 52 Ohms. Your neighbors will be glad you purchased one of these!
Handles up to 2500 Watts key down. Has SO-239 connectors. Measures 9.5x4.25x2.38 inches.
Product Manuals
Download Product Manual