MFJ-1436, MOBILE, 6M/2M/440MHz, TRI-BAND, SO/NMO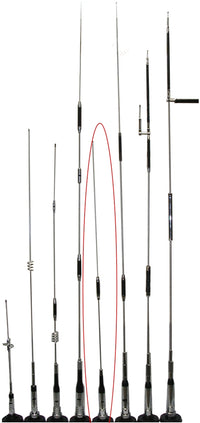 RuffRider Tri-Bander. 59 inches of stacked elements with high-Q phasing coils give you outstanding gain for longer QSOs!
You get a whopping 7.2dB gain on 440 MHz, 4.5 dB gain on 2 Meters and 2.15 dBi gain on 6 meters. Work all your favorite bands with just one antenna! Its perfect for the new triband and multiband radios! MFJ-1436 is factory tuned for SWR less than than 1.5:1 with 50 Ohm impedance. handles 150 Watts. 5" mag recommended.
Product Manuals
Download Product Manual