MFJ-1728B, ANT, MAG MT, 2/6M, 5/8 WAVE, RG58 PL-259/BNC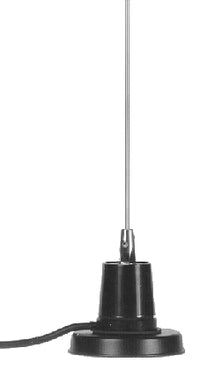 MFJ`s ⅝ Wave on 2 Meters gives you the maximum possible theoretical gain of any single element mobile antenna -- no matter how much others cost.

On 6 Meters, the MFJ-1728B is a high performance full quarter wave antenna. Its an excellent companion for your MFJ-9406, MFJ-9406X, or other 6 Meter mobile or handheld transceiver. Gives you great "Magic band" signals used mobile or as a base station antenna. Its perfect for your mobile or HT. Free BNC handheld adapter. Its rated at 300 Watts PEP - its amplifier ready Low SWR lets your transceiver deliver full power safely.

A Heavy duty magnet mount holds your antenna tight at highway speeds. You get 12 feet of coax and a stainless steel radiator that will endure years of harsh mobile use. Easy to take down with an Allen wrench.
Product Manuals
Download Product Manual