MFJ-1754, ANTENNA, DUAL BAND, 144/440 BASE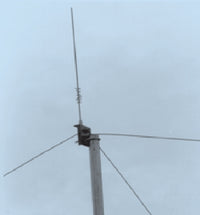 MFJs dual band 144/440 ground planet antenna is small, lightweight and super easy to mount to any 1 to 1 1/2 inch mast (not included) with a single included U-bolt -- youll have it up and operating anywhere in just minutes. Great for backpacking.
Mount it inside to get on-the-air quickly. You get extra long range on 440 MHz with a high gain halfwave over quarter wave antenna and solid 1/4 wave performance on 2 Meters.
Ground plane is sloped to give low SWR across both bands and to minimize feedline radiation. This gives you more useful radiated power, reduced TVI and noise pickup by the coax shield.
MFJ-1754 is made of strong lightweight aluminum parts protected from corrosion by MFJs exclusive Permanent Molecular Bonding Technology. Its stainless steel EasyTune radiator is 19 inches long and has a built -in integral phasing coil for 440 MHz
Product Manuals
Download Product Manual