MFJ-1785,ROTATABLE DIPOLE, 80/40/20 METER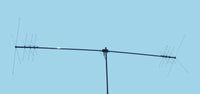 MFJ 80/40/20 Meter Rotatable Dipole
A full legal limit efficient 80, 40, and 20-meter antenna that is shorter than a 20-meter dipole.
Now you can operate the low bands on 80, 40, and 20 Meters with a true rotatable dipole that'll blend in with the sky!
Take advantage of the excellent propagation of the low bands during the low sunspot cycle.
This rotatable dipole lets you focus your signal in the direction you want so you can work some real DX!
Small, low profile, inconspicuous.
The entire antenna length is used on all three bands.
The MFJ-1785 is constructed of 6063 T-6 aircraft strength aluminum tubing with a solid center fiberglass insulator and handles 1500 Watts SSB/CW.
The 80 and 40 meter end-loading coils are wound on fiberglass forms with Teflon wire, and resonated with capacitance hats to ensure an extremely low-loss structure.
Balun included!
33 feet wide.
Requires a medium-duty rotator such as Hy-gain's AR-40
Product Manuals
Download Product Manual