MFJ-1848, HEX BEAM, 8-BAND, 6/10/12/15/17/20/30/40M, 1.5kW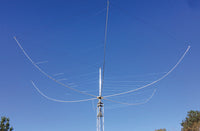 New HexBeam from MFJ delivers solid gain and directivity on 40, 30, 20,
17, 15, 12, 10, and 6 Meters in a low-profile package that will have your
pocketbook and your neighbors smiling!
The MFJ-1848 uses an updated G3TXQ element configuration for excellent
gain, improved bandwidth, superior front-to-back ratio and low SWR --
makes snagging rare DX easy!
That`s just the beginning! MFJ takes the HexBeam`s unique balanced-tension
framework to a new level with rugged mounting hardware, exceptionally
durable spreaders and sliding antenna-wire guides -- all designed to
ensure years of reliable service in tough weather conditions.
Gain and directivity makes the difference when DXing or maintaining
schedules and the HexBeam delivers!
Great Value: Hexbeams are expensive to manufacture. MFJ`s massive
purchasing power and extensive manufacturing capability gives you more
HexBeam for less money than others!
MFJ-1848 Specifications: Gain/front-to-back ratio: see www.
mfjenterprises.com; Turning Radius: 14 ft.; Max Mast Size: 2 inches
OD; Weight: 28 lbs.; Wind Load: 3.5 sq. ft.
Some Outstanding
MFJ-1848 Features
• Lightweight -- mounts on a TV mast, tripod, gable mount, or even chimney
straps
• Solid Construction -- gives years of reliable service
• Proven directivity and gain from a time-tested design
• Rotates with an inexpensive rotor -- only 3.5 square-feet of wind loading
• Handles maximum legal power, all modes, all six bands
• Delivers full-band coverage without a tuner
• Great for contesting, QSY instantly among all six bands
• Just one coax feed, a real convenience and cost saver
• Sky-gray spreaders disappear against most backgrounds
• Small footprint -- 14-foot turning radius fits cramped spaces
• Symmetrical footprint -- stays balanced when coated with ice and snow
Product Manuals
Download Product Manual