MFJ-1903, UNIVERSAL TILT BASE FOR VERTICAL ANTENNA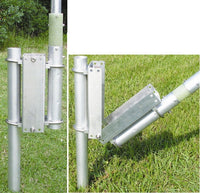 The design of this unique Universial Vertical Tilt Base allows this tilt base to fit most vertical antennas with or without a base bracket. Pre-punched hole makes it easy to mount many different type of verticals.

Fits Hygain's AV-18VS / AV-14AVQ / AV-18AVQII / AV-640 / AV-620 / AV-6160, and MFJ`s MFJ-1796 / MFJ-1798 / MFJ-2990 and others with tube bases or mast pipes up to 2 ¼" OD. Mount one side of the tilt base to the mast and the other to the antenna base.

No climbing a ladder -- raise your antenna up/down easily before severe weather by yourself -- just walk it up or walk it down. Ground radial holes also provided. ⅛" thick aluminum. Includes two 2 ¼" U-bolts, mast saddles and stainless steel nuts and bolts.
Product Manuals
Download Product Manual