MFJ-1914, Antenna Mast Mount System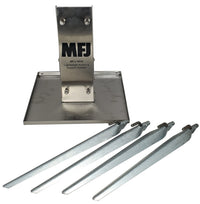 MFJ Portable Antenna
Mast Mount System
MFJ-1914 is a stainless steel antenna mast mount system complete with four
heavy duty 15-inch galvanized tapered stakes with outer pins for secure
ground mounting of your favorite MFJ telescopic masts.
It includes two U-bolts that will hold up to 2.25 inch OD masts sturdy.
Telescopic masts and portable operations are more popular than ever and this MFJ-1914 will help you get your antennas up in the field quickly, easily and safely!