MFJ-1925I2, ATAS CONTROLLER, IC706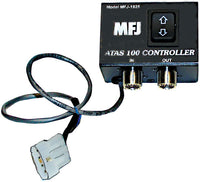 The ham world has found the perfect HF/ VHF antenna for mobile/portable operation . . . the Yaesu ATAS Screwdriver Antenna.
. . . But you can`t use the antenna unless you have the MFJ-1925 antenna controller.
This small MFJ unit is installed in-line between the antenna and rig. It provides the necessary voltage to move the antenna up or down when controller is pressed accordingly.
MFJ-1925I2 is specially designed for the Icom IC-706. It`s a perfect match for the 706 and the Yaesu screwdriver antenna. It has a special 706 control cable with 4-pin connector that mates with the 706 controller port.
When the up/down switch is pressed on the controller, the 706 automatically transmits in low power and turns the antenna for low SWR. When the lowest SWR is found, simply release the tune switch on the MFJ controller. Now you`re ready to operate. SWR is monitored by the meter on the 706.
MFJ-1925/I2 is simple to install. No modification to the radio or antenna is necessary. SO-239 connectors for radio and antenna connections. MFJ-1925I2 has 4-pin connector for the 706 antenna port.
Order The MFJ-1925I2 for Icom 706. The MFJ-1925 works for other transceivers.
Product Manuals
Download Product Manual