MFJ-2289, PORT DIPOLE, BIG EARS, 8-BD, 7.0-55MHz, BIG EARS, 1kW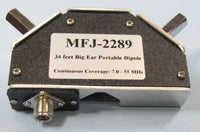 Experience Unmatched Portability and Performance with the MFJ-2289 Big Ear™ Portable HF Antenna
Why Settle for Less When You Can Have the Best?
For the ham radio operator who demands excellence in field operations, the MFJ-2289 Big Ear™ Portable HF Antenna is the game-changing equipment you've been searching for.
Efficiency That Makes You Forget You're in the Field
With its unique Hi-Q matching system and a robust 45-degree center block, the MFJ-2289 Big Ear™ is a "signal magnet." It's designed to pick up even the weakest signals that others might miss, setting a new standard in HF communication.
Built to Last, Designed to Impress
The MFJ-2289 features weather-resistant stainless steel telescopic whips that extend to an extraordinary 10.36 metres (34 feet)—more than double the length of most portable antennas. This is not just an antenna; it's a fortress of signal strength.
Get On the Air in Record Time
The MFJ-2289 ensures that you're on the air quickly, thanks to its simplified assembly and fast tuning process. You'll be making QSOs while others are still thumbing through their instruction manuals.
Versatility at Its Finest
The MFJ-2289 offers a wide frequency range from 7.0 to 55 MHz, allowing for exceptionally low SWR across this range. With 10.36 metres (34 feet) of signal-radiating element, you can say goodbye to power-robbing losses.

Safety You Can Count On
The Big Ear™ is designed with heavy-duty components and a 1 kW PEP power rating to ensure electrical safety. Its unique V-shaped element design keeps the tips elevated, minimizing the risk of accidental contact.
Optional Accessories to Enhance Your Experience
Optional Tripod: MFJ-1918EX: Enhance your setup with a telescopic fiberglass mast equipped with QuickClamps for effortless setup.
Optional Carry Bag: MFJ-6204: Make your field operations even more convenient with this specially designed carry bag for portable antennas. It's the perfect solution for transporting and protecting your MFJ-2289.
The Bottom Line
The MFJ-2289 Big Ear™ is not just an antenna; it's a revolution in portable HF communication. With its unparalleled efficiency, rugged design, and quick setup, this antenna is the ultimate tool for any serious ham radio operator.
So, are you ready to elevate your ham radio experience? Choose the MFJ-2289 Big Ear™ and discover the extraordinary.
Videos
Product Manuals
Download Product Manual