MFJ-2299, TELESOPIC DIPOLE, MULTI-BAND, 20M TO FM, SS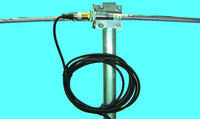 MFJ-2299 is a rugged continuously adjustable stainless-steel dipole that covers the FM broadcast band through 20 Meters. It sets up quickly and makes a great temporary antenna for apartments, motel balconies, RVs, mountain topping, and boating. Great for field day also!

Best-of-all, its full-size ½ Wave element delivers the high-efficiency you need to work QRPDX or monitor distant shortwave broadcasts from virtually any location. Frequency coverage is continuous. Optimum length may deviate slightly depending upon factors such as height above ground, proximity to nearby objects, etc. You simply adjust for the lowest SWR.

MFJ-2299 includes MFJ-347 dipole mount and two 16' MFJ-1979 stainless- steel telescopic whips with ⅜ x 24 studs, collapsible to 27 inches.

Super quick and easy to put together. Just screw the bracket onto your mounting pole, screw in the whips and add your coax!