MFJ-23, BUTTERFLY LOOP AIR VAR CAP, 18-136 PF, 1.5KV, 23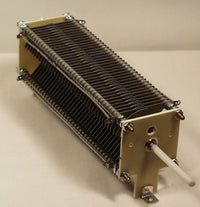 This is our MFJ-23, a larger low loss butterfly loop tuning capacitor. The capacitance is variable from 18-136 pF.

This low loss butterfly loop tuning capacitor has a voltage rating of 4200 Volts rms. Built-in insulator feet give 1-inch of space under the bottom of the capacitor allowing convenient mounting and high voltage insulation. Solder lugs are provided on the stators and rotor for easy wiring.

Longer than the MFJ-19, this butterfly capacitor measures 10 inches in length, 3 inches wide and 3½ inches tall. Included is a 2½ inch long ¼ inch diameter insulated nylon shaft so a knob can be easily added to aid in turning the capacitor rotor.