MFJ-2774K, KIT, DELUXE WIRE ANT KIT,80-10M,G5RV,DIPOLE,DOUBLE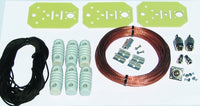 DELUXE Dipole Antenna Kit

MFJ-2774K has everything that is in the MFJ-2772K plus 3 multi-purpose center insulators, 100 feet of 1/8" nylon rope, 2 PL259s, 2 RG-58 reducers, SO-239, stainless steel screws/nuts,. Has 6 ceramic insulators.

Make a G5RV, doublet or dipole.

Multi-purpose center plates have pre-punched holes designed to secure and relieve stress of feedline weight.

Use ladder or coax.

Pre-punched hole for SO-239.