MFJ-2822, MOBILE TRAILER HITCH MOUNT,WITH 3/8-24 GUM DROP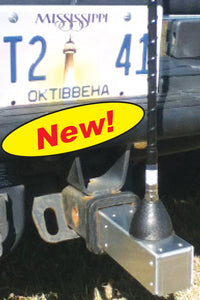 MFJ Truck Trailer Hitch Antenna Mount

MFJ-2822 slides into your trailer hitch slot and a bolt locks it in place. Your trailer hitch mount can hold small, medium and large HF/VHF/UHF antennas -- you can even mount the tiny Tarheel Screwdriver HF antenna.

Heavy-duty aluminum construction. Includes large nut and bolt. Has SO-239 for VHF/UHF antennas and a 3/8-24 threaded GumDrop connector for HF antennas.

Removes height restrictions by mounting your antenna at the lowest possible point on your truck or SUV.

2W x 2H x 10 1/4D inches.
Product Manuals
Download Product Manual