MFJ-284I, BOOM MIC, WITH FM RADIO, FOR IC/YAE/RS/ADI/STD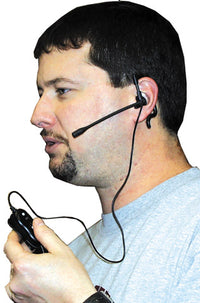 BLOWOUT SPECIAL!!!  WAS: $44.95, NOW: $15!!!
Finally . . . a secure and comfortable earbud and boom microphone thats as small and inconspicuous as your radio! No more gaudy, oversized headsets or massive handheld speaker microphones!

PLUS . . . an FM Scan Radio is included in the tiny PTT switch, capable of receiving broadcast FM stations from 88 MHz to 108 MHz. This relaxing feature lets you catch up on the news or listen to music or sports programs while also operating 2-Meters! Got an important football game you want to listen to but also dont want to miss out on the local hamfest? MFJ-284 has got you covered you can listen to the game and monitor the ham band at the same time.

You can walk around the hamfest with music in your ears and still be monitoring the ham bands looking for your buddies! Your MFJ-284 boom microphone will automatically switch from the FM radio to your transceiver audio when a ham signal is detected. Low and Maximum volume and on/off settings for FM radio let you adjust to noisy conditions.

This tiny earbud features a secure and comfortable rubber flex earloop design and 5 inch flexible boom microphone that adjusts perfectly to your mouth. The earloop secures your earbud for a comfortable fit so theres no more worrying about it falling out of your ear.

The MFJ-284 is perfect for monitoring your receive audio when you are in a loud environment. MFJ-284s special rubber flex earloop design adjusts to fit the right or left ear (big or small) very securely and comfortably.

Made of a sturdy black polyurethane and comfortable rubber earloop, itll give years of dependable use. Tiny thumb-sized PTT switch is built right into the 6 feet of cord. (1) CR2032 (3 Volt) coin cell battery and tiny screwdriver for opening battery compartment is included.

MFJ-284 (I) fits Icom and compatibles. MFJ-284 (K) fits Kenwood. MFJ-284 (Y) fits Yaesu FT10R/40R/ 50R/VX-1R/VX-5R, Icom IC-Q7A, or other radios using single plug-ins. Comes with MFJs famous No Matter WhatTM one year limited warranty. MFJ will repair or replace your MFJ-284 no matter what for one full year.
Product Manuals
Download Product Manual