MFJ-288K, BOOM/MIC, KENWOOD/WUX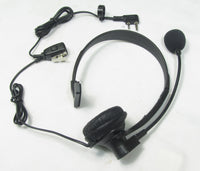 BLOWOUT SPECIAL!!!  WAS: $39.95, NOW: $22!!!
Walking through an airport, at home, or in your car, this MFJ deluxe headset gives you the ability to carry on a private QSO while doing other things.
The mic can pick up your voice, whether booming or at a quiet whisper when placed appropriately near your mouth. The earphone gives superb tonal quality so even distant stations will come in loud and clear.
Made of sturdy black plastic and strong metal sliders, one size fits all! Superb speaker and mic foaming protects the mic and speaker elements as well as making the ear fit very comfortably.
Small PTT switch can be conveniently attached to your shirt or pants pocket. Has six feet of cord from headset to plug.
MFJ-288K fits Kenwood and compatible handheld transceivers.