MFJ-29100H,DIPOLE FEED BLOCK XFMR,100-50 OHM, 1.5kW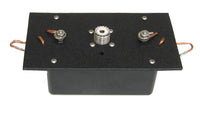 Raise your HF dipoles high above ground for better DX without losing that perfect 1:1 match! This center block transforms 100 Ohm loads down to 50 Ohms. Has a superbly effective 1:1 current balun for transition from balanced element to coaxial line.

1.5 kW PEP SSB/CW.

4" W x 1 ½" H x 2 ¾" D

Also see the MFJ-2975, MFJ-2975H, and the MFJ-29100.