MFJ-295R, SPK/MIC, MINI, YAESU VX-7R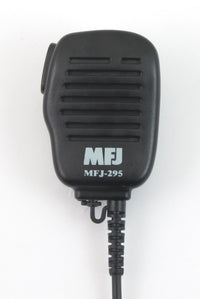 Heres a mini top quality speaker mic thats perfect for the new Yaesu VX-7R. MFJ uses a high quality non-directional electret condenser microphone to give your Yaesu handheld crystal clear transmit audio. Microphone has -53dB sensitivity and 1K Ohm impedance. An excellent top quality speaker produces 83 dB of crystal clear receive audio. Impedance is 8 Ohms. Built in earphone jack, top quality PTT thumb switch, 8 position swivel lapel clip, 3 1/2 feet of durable, stretchable cord.
Made of high-impact plastic. Water resistant. All black microphone and cord.