MFJ-2990, 160-6M VERTICAL ANT., 43FT, 1500W, W/BALUN/MOUNT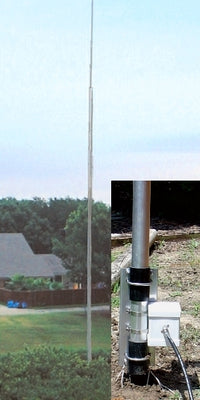 Get 160-6 Meters Coverage and 1500 Watt Operation with a single antenna!
This MFJ-2990 is a 43-foot self-supporting vertical antenna that covers 160 through 6 Meters with the use of an antenna tuner.
It weighs just 20 lbs. and has a wind load of just 2 square feet. The antenna diameter is 2" OD at the bottom, 0.120" thick-walled tubing.
The top 6 foot section of this antenna consists of a 1/8" diameter solid stainless steel whip. This gives the MFJ-2990 the lowest wind-loading and is the least visually impacting 43-foot vertical antenna on the market! The entire length of this antenna radiates so you get great performance.
It's great for stealth operation for those in antenna restricted housing developments -- this very inconspicuous antenna looks like a tall tree or flagpole! You can put a flag on top, hide it behind trees, fences, buildings, bushes, or easily tilt-over in the day time.
MFJ-2990 is so lightweight, it's easy to put it up at night and take it down in the morning before the neighbors even know what is going on! Ground mounts to completely hide the antenna base.
It includes a legal limit balun at the base and is base fed. The MFJ-2990 provides outstanding low radiation performance on 17 meters and below, and very good performance on the higher bands.
It can be shortened for more effective low angle radiation on the higher bands if desired. Includes MFJ-1900 ($69.95 value) Ground Mount Base Kit.
The MFJ-2990 provides low SWR across the full 160-6 Meter frequency range with an antenna tuner.
Any external antenna tuner and many transceiver internal antenna tuners can easily match this antenna across the full frequency range.
When using good quality, low-loss coaxial cable, feedline losses due to SWR are
negligible (typically less than 1/2-dB).
MFJ-2990 is also built-to-last. It uses incredibly strong 6063 corrosion resistant aircraft strength aluminum tubing and stainless steel hardware.
And perhaps most important of all, It assembles easily in about an hour! Easy
installation makes it great for portable, temporary uses like field day, DXpeditions, etc.
Product Manuals
Download Product Manual