MFJ-333BS, MOUNT, 3~ MAG, WITH SO-239, BLACK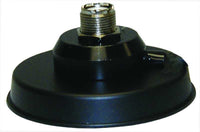 MFJs Max strength hi-flux magnet mounts give you maximum pull strength so you can be sure that your antenna will stay on top of your vehicle at highway speeds.
Base is Euro-style, poly finish with a Mylar protective undersheet.
Magnet mounts come with 17 feet of tough RG-58 coax with a PL-259 connector. itll easily reach any operating position.