MFJ-336M, MOUNT, 5" TRI-MAG, NMO MOUNT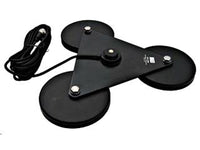 IN STOCK!
NMO 

MFJ Triple Magnet 

Three super-strong 5-Inch Magnets make up this MFJ GoliathTM Tri-Magnet Mount.

MFJ-336M has three super strong 5-inch magnets bolted to a 1/4 inch triangular mount. 17 feet of coaxial line is terminated with a PL-259 connector.

Caution: once on, it is difficult to get it back off!