MFJ-340M, MIRROR/PIPE/GUTTER MT, 17RG58, NMO MOUNT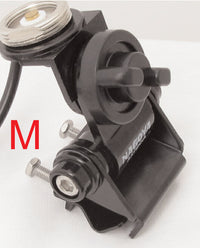 Deluxe RuffRider
Mirror / Pipe Mount attaches on a support rod of your mirror, luggage rack or spare tire carrier of your vehicle (up to 5/8" in dia.).
Secures large VHF/ UHF and medium size HF antennas with a PL-259 connector.
Two axis of rotation position your antenna to any desired angle.
Serrated swivel joint locks secure with huge 3/8" set screw.
A convenient thumb/finger turn knob.
17 foot coax with PL-259.
Has 17 feet of coaxial line is terminated with a PL-259 connector, Allen wrenches and weather protection caps are included.