MFJ-347, 3/8-24, DOUBLE T PIPE MOUNT, W/SO-239,(85-0347-1)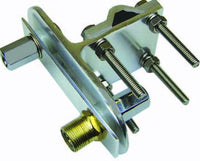 Build your own 80-6 Meter mini-dipole using two HF mobile whips!

Mounts on mast up to 11/4" OD. Super heavy-duty solid aluminum construction. Only MFJ has exclusive, isolated dipole elements that let you insert balun or coil up coax to isolate feedline. Gives you a true balanced dipole that prevents RF on coax shield, eliminates pattern distortion, reduces noise pickup and RFI radiation from coax and provides deep dipole end-nulls for nulling out interference.