MFJ-349, TRUCK BED ANTENNA MOUNTING BRACKET, 3/8-24, NMO, SO-239 HOLES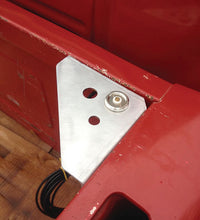 MFJ Truck Bed Mount SO-239, NMO, 3/8-24 

Mount this 5"W x 5"D x 1"H, .120" thick aluminum triangular bracket in any corner of your truck bed and you'll have a super-strong HF, VHF or UHF antenna mounting system.

Pre-Punched holes for 3/8-24, SO-239 and NMO connectors. Connectors not included.

Couple it with an MFJ-341S (SO-239), MFJ-341M (NMO) or MFJ-343 to complete. MFJ-341S/M has 17ft coax.