MFJ-393,MICROPHONE HEADSET, COMMUNICATION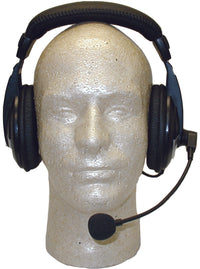 MFJ Professional Boom-Mic Headphones
For Icom, Yaesu and Kenwood
Professional grade boom-mic headphone set for contesting, DXing, traffic nets. Comfort designed leatherette padding lets you operate for hours at the rig.
Superb 3/4 inch padding on each ear and head.  Super lightweight, you won't even know they're there!
Headband adjusts for perfect fit to keep out external noise. Frequency response enhanced to bring out speech fidelity you never knew existed. Signals never sounded so clear!
Flexible mic boom lets you position it comfortably, optimum distance minimizes silibant sounds. Frequency tailored mic element busts through noise and QRM!  Six foot cable.
Casual operators will appreciate the superbly crafted Boom-Mic headphones for hands free operating and DXing at an incredibly low MFJ price.