MFJ-403P, KEYER, TRAVEL IAMBIC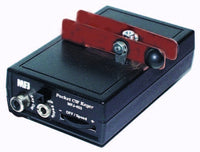 This new MFJ Travel Keyer is a full-featured CW keyer with a built-in Iambic paddle. Its ultra-compact size is perfect for traveling or for home use with QRP or "big" rigs. Throw it in your briefcase alone with your MFJ QRPCub or other favorite rig on your next trip.
Send Beautiful CW with no effort
Self-completing dots and dashes and dot-dash memory is very forgiving of timing mistakes. It lets you perfectly form dots, dashes and spaces effortlessly for accurate professional sounding CW.
Adjust Speed on the Fly
A thumb wheel control lets you adjust speed on-the-fly 3 to 65 words-per-minute.
Adjustable Weight
Dot-dash weight is adjustable 25% to 75% to make your signal distinctive in a pile-up. It also lets you compensate for transmitter turn-on delay.
Sidetone with Speaker
A built-in sidetone with LM386 audio amplifier, speaker and volume control makes monitoring your sending easy. Sidetone pitch is adjustable 300 to 1000 Hz.
Keyer Modes
you can select a keyer mode to suit you -- Iambic mode A or B, fully automatic or semi-auto "bug" mode.
Reverse Paddle
If youre left handed or to adjust for your paddle wiring, you can reverse the sending a single letter you can completely control your keyer.
RF Proof
Effective RF proofing lets your MFJ-403 work in any strong RF environment.
Positive Keying Output
Its positive keying FET output lets you key nearly all modern transceivers and transmitters.
Battery Saver
Youll think your battery will last forever -- your keyer goes to sleep during periods of inactivity. Uses a readily available 9-volt battery.
Specifications
Voltage requirements: Internal 9-volt transistor battery
Keyer speed: Typically 5 to 60 WPM
Sidetone level: 50-mW max., adjustable internal trimpot
Sidetone frequency: 727 Hz default, adjustable 300 to 1000 Hz
Keying limits: Positive keying. 50 volts at 100 mA max
CW generation: Iambic A or B, Automatic or Semi-automatic
Memory: Dot Dash memory
Weight: 50% default, adjustable 25 to 75 percent
Product Manuals
Download Product Manual