MFJ-4113TR, BIAS TEE WITH POWER SEN. T/R SWITCH, HF, 1A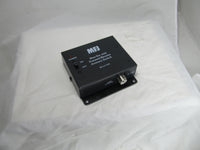 MFJ-4113TR has on/off position to switch between transmit or receive for different T/R antennas. SWR <1.5:1 below 150 MHz and 1.16:1 below 230 MHz.
MFJ-4113TR lets you power an active antenna with an amplifier at the antenna;
power a remote tuner on one port and switch to another antenna on the other port;
switch between a receive antenna like MFJ-1886 low noise loop and a transmit antenna (beam or vertical).
Power to DC-Pass port is grounded through a 100 Ohm resistor.
Product Manuals
Download Product Manual