MFJ-4215MV, SWITCH PS, 15A, 13.6V ADJ, MTR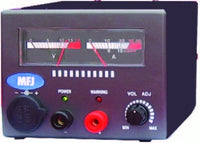 MFJ-4215MV can power your VHF/UHF mobile radio with 13 Amps continuous and 15 Amps surge. Has variable voltage control from 4.0 to 16 Volts with 1% voltage regulation. It has less than 9 mV peak-to-peak ripple at the rated load.
MFJ's Exclusive HashSQUASH Filtering System eliminates RF hash that plagues other manufacturer's supplies.
Easy-access front panel connectors: 5-way binding posts, cigarette lighter socketand Voltage Adjustment control. Backlighted Voltage and Ampere meters.
Power on and "fault" LED indicators.
Switchable AC input: 90-125 or 200-240 selectable. Has external replaceable
fuse. MFJ-4215MV is fully protected with Short-circuit, overload and over-temperature protection systems. It also has an auto-restart feature after a fault. Whisper quiet cooling fan. Weighs just 2.9 pounds, measures 5W x 3 3/4 H x 7 D inches.
Product Manuals
Download Product Manual