MFJ-422EX, MEMORY KEYER,FOR MOUNTING ON MFJ OR BENCHER PADDLE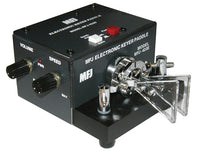 The Best of all CW worlds -- a MFJ/Curtis keyer TM in a compact package that fits on the Bencher iambic paddle! Buy the combination or just the keyer for your Bencher or MFJ paddle. MFJ's most popular keyer is small but big in features giving you adjustable weight and tone and has front panel volume and speed control (5-65 wpm). Has built-in dot-dash memories, speaker, sidetone and auto or semi-auto/tune modes. Keys solid state or tube transmitters. Fully shielded. 9 volt battery or 110 VAC with MFJ-1312D.
Keyer mounts on paddle base to form a small 4 x 2 1/4 x 4 1/4".
Buy the combo or just the MFJ keyer (MFJ-422EX) to fit on your MFJ-564 or MFJ-564B iambic paddles.
Product Manuals
Download Product Manual