MFJ-4616, VENT THRU PANEL, 6 HOLES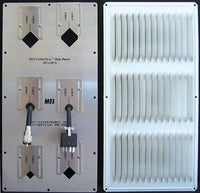 Bring cables through the eaves of your house.
Replace your standard house eave/sofitt air vents with these MFJ AdaptiveCable™ Air Vent Plates.
Bring in coax, rotator, antenna switch, power cables, etc. of nearly any size up to 1 ¼" x 1 ⅝".
Sliding plates and rubber grommets adjust for virtually any cable size to seal out adverse weather, insects and varmints. Use existing vent hole, mounting screws and screw holes.
MFJ-4613 - Half-size. For three cables.
MFJ-4616 - Full-size. For six cables.
Product Manuals
Download Product Manual