MFJ-4704, COAX PATCH PANEL, 4 POSITIONS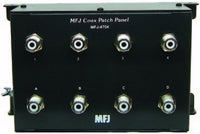 MFJ Coax Patch Panel connects devices with virtually no loss, feed-thru or cross-talk
Provides 8 Teflon® SO-239 coax feedthru barrel connectors to patch 8 coax fed devices together with short coax jumpers.
This extremely high performance and versatile military/professional patch panel approach has virtually no loss, no feed-thru and no cross-talk -- depends only on the quality of your coax -- and has far better performance than any switching system.
To use, connect your coax fed devices (rigs, antennas, SWR/Wattmeters, tuners, amplifiers, preamps, switches) to coax connectors inside the patch panel.
Each device is then available on the front panel and can be connected to any other device using a short coax patch cable. All devices can be used at the same time.
Cables enter through side or rear on either side, with a wing nut for ground. Side/back mounting tabs let you mount to wall, under table, on desk. 9" x 5" x 4".
MFJ-4704 - 8 coax devices
MFJ-4706 - 12 coax devicces
Product Manuals
Download Product Manual