MFJ-4712, REMOTE ANTENNA SWITCH, 2 POSITIONS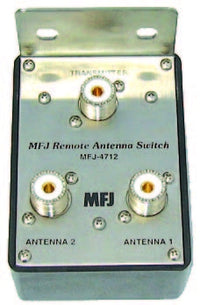 This MFJ 2-position remote antenna switch uses a single coaxial feedline to
feed two antennas, DC power and control signals -- no power or control cable needed.
It's perfect for switching from HF to VHF -- no more unplugging coaxial lines from your antennas just to switch frequency -- a quick switch does it for you.
MFJ-4712 covers 1.8 MHz-150 MHz and handles 1500 Watts. Impedance is 50-75 Ohms.
The compact 4W x 2 5/8H x 1 1/2D inch Outside Switch Box is fully enclosed and
weather protected. It also has three quality Teflon(R) SO-239 connectors for transmitter, antenna one and antenna two.
It uses a Stainless steel 1 1/2" tall bracket with a U-bolt for masts up to 1 1/2 in. O.D. Inside remote control is 2 1/4W x 2 1/2H x 1 1/4 in.
Product Manuals
Download Product Manual