MFJ-4714, DESK/REMOTE ANT. SWTICH, 4-POS, 1.8-150 MHz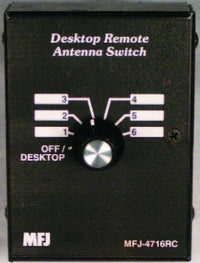 Use this MFJ-4714 Six-position Antenna Switch on your desk or place it out-of-way under your desk or in another room and use a remote control.

A simple rotary switch lets you select 1 of 4 antennas. All unused inputs are grounded. You can connect a sense line to your transceiver so when it's off, all inputs are automatically grounded.

In the OFF position, all inputs are grounded or control is transferred to the   MFJ-4714RC Remote Control.

Ultra-fast gas discharge tube lightning surge protector protects transceiver and safely shunts static electricity and lightning induced surges safely to ground. Does not protect against a direct lightning hit.

Easy-to-use - just one simple rotary switch. There are no complicated computer buttons to learn or microprocessors to fail or generate RFI that could mask rare DX.

SO-239 connectors. 1500 Watts/50-75 Ohm load, 1 - 60 MHz. Useable to 150 MHz. Connects to MFJ-4714RC remote control with common CAT 5 cable, not included (available from WalMart, etc.).

Use 12 VDC or 110 VDC with MFJ-1312D. 8" W x 2 ¾" H x 4 ¼" D. For indoor use, not weather protected.
Product Manuals
Download Product Manual