MFJ-4726, ANT/XCVR DESK/REMOTE SWITCH, 6 POS, 1.8-150 MHz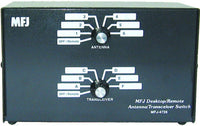 Place this MFJ-4726 Six-Position Antenna/Transceiver Switch on your desk or place it out-of-way under your desk or in another room and use a remote control. Select one of six antennas and one of six transceivers in any combination with just two easy-to-use rotary switches.
Plug in antenna tuner, SWR/Wattmeter or other into its common ports, so it is always connected to the antenna and radio selected.
All unused inputs are grounded. When rotary switches are in OFF position, all inputs are grounded or control is transferred to MFJ-4726RC, $59.95, remote control.
Automatically grounds all inputs when you turn off transceiver.
Lightning surge protector protects transceivers and shunts surges to ground. Does not protect against a direct lightning hit.
SO-239s. 1500 Watts into 50-75 Ohm load 1-60 MHz. Useable to 150 MHz. Use CAT 5 cable for remote control, not included. Use 12 VDC or 110 VAC with MFJ-1312D, $14.95. For indoors, not weather protected. 8Wx5Hx41/4D inches.
Product Manuals
Download Product Manual