MFJ-490EX, MEMORY KEYER, FOR MFJ-564 AND BENCHER PADDLE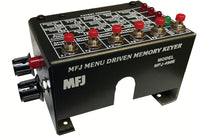 MFJ Menu Driven Memory KeyersTM are the easiest keyers to operate. There's no keypad, no complex sequence, nothing to remember. Just select a menu by pressing a button. LED lights to indicate which menu is active. Select features by pressing buttons. Easy as using a touch screen! Menu is clearly printed on front (or top) panel -- no confusion. Save and play messages, decrement serial numbers, set speed, weight, sidetone, enter Iambic, semi-auto, handkey, message queue, paddle command modes, turn sidetone on/off, transmitter tune, and set keying output on/off.
Select iambic A/B, reverse, Morse trainer, and store starting serial number for contests. Bypass menu function, tells status in CW. Adjust speed, 5-100 wpm, by pressing paddle smoothly or by knob control. Morse trainer lets you practice or teach in Farnsworth or normal mode. Letters, numbers, prosigns, or any combination for practice using
five character groups, or more realistic 1-8 groups.
Product Manuals
Download Product Manual