MFJ-5014, WHITE NOISE GENERATOR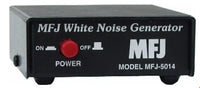 The MFJ-5014 is perfect for IF and HF sensitivity checks, tuning and testing filters, adjusting networks, and much more.
Combine with a directional coupler to measure return-loss. Requires 9-V battery
for operation. Has BNC and SO-239 connectors. Tiny aluminum construction, 4 1/4W x 1 3/4H x 2 3/4D inches.
Product Manuals
Download Product Manual