MFJ-835, RF IN-LINE CURRENT METER, BAL.LINE, 1-30MHz, 3AMP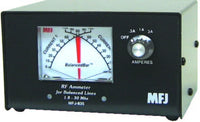 How do you detect imbalance in open-wire or ladder line? By measuring and comparing each feedline wire current -- your feedline is balanced if the currents are equal.
The MFJ-835, BalancedLine RF AmmeterTM is two identical calibrated RF ammeters using an MFJ Cross-Needle meter.
Feedline currents are simultaneously displayed on separate calibrated scales in three ranges (.3, 1, 3 Amperes).
Balance is clearly revealed on MFJs exclusive BalancedBarTM -- when currents are balanced, the dual needles cross in the center -- no matter the actual current.
If the needles cross within the vertical BalancedBarTM the balance is within 10%. If not, you know which line is unbalanced and by how much.
Equal currents in the feeder wires minimize feedline radiation and reduces pattern distortion, RFI, TVI and wasted power. You could lose up to 10% of your power.
Imbalance is due to feedline not being perpendicular to antenna, if one side runs close to metal or is shorter or closer to ground.
The MFJ-835 helps you solve all your unbalanced problems.
Heavy-duty 5-way binding posts for feedlines. Use 12 VDC or 110 VAC with MFJ-1312D. 6W x 3½H x 4½D in.
Product Manuals
Download Product Manual