MFJ-916BC, DUPLEXER, HF-220 MHz/440MHz, PIGTAIL PL-259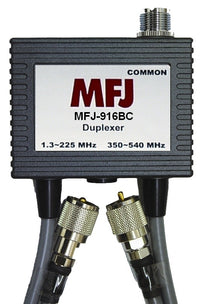 Use an HF, 2 Meter or 440 MHz antenna with a separate HF, 2 Meter or 440 MHz transceiver without a built-in duplexer. Or use two dual band antennas with a dual band transceiver with only one RF output.
Heavy duty diecast enclosure houses low pass networks that separate/combine 144/440 MHz signals. Ports are 50 Ohms, units handle 200 Watts PEP. MFJ-916B has low loss SO-239 connectors. MFJ-916BN has type N connectors. MFJ-916BC has 12" coaxial pigtails with PL- 259 connectors. MFJ-4916S has SO-239 connectors, but handles 600 Watts PEP.
Product Manuals
Download Product Manual