RC1-Y, ROTATOR CONTROLLER, MDS, DC, YAESU G800/1000/2800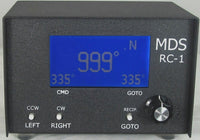 Temporarily OUT of STOCK.
Purchase this for Yaesu Rotators.

The RC-1 is a direct replacement control box for Yaesu rotators and SA & DXA models and others. Those that
have the Jones-type plug will need an optional mating plug or pigtail. It is priced well below the repair cost
of many factory control boxes. RC-1 uses slave power from existing Ham series, AC controllers (RC1-G,
RC1-H). It is emergency and batterypower compatible for DC models. You get automatic brake control on Ham series rotators and automatic speed control on DC powered rotators. A graphic LCD screen is large and
bright blue for easy visibility. Huge beam heading digits! The "Go-to" button gives you the reciprocal heading for quick changes. Computer-controlled operation via the included USB or serial ports let you use your favorite software programs. Field upgradeable firmware is updated via the serial port. Rugged aluminum enclosure for
maximum RF shielding is a compact 51/4Wx31/2Hx41/8D inches.
Product Manuals
Download Product Manual