SDC-105, AUTO SCREWDRIVER ANT CONTROLLER, W/LCD DISPLAY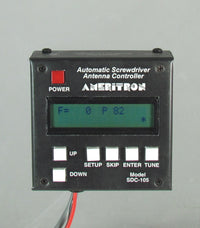 SDC-105 works with all rigs 160-6 meters!  No interface cables needed!  Rf sensor reads frequency data and moves antenna to nearest programmed setting.  8 Settings per band.
Tune command will tune antenna automatically to lowest VSWR.  LCD display reads frequency.  VSWR turns count and motor operating current.  Manual up/down buttons can be used for fine tuning.
2-speed motor control high for quick adjustments, low for fine tuning.  Home mode allows hands free lowering of antenna.  Adjustable current limit prevents motor damage or improper stall outs.
Meter port allows use of AWM-35B/H SWR/Wattmeter. 4 Pin molex matches most screwdrivers
Product Manuals
Download Product Manual