SR-3,3-Band HF Yagi covers 10/15/20 Meters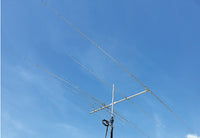 Temporarily OUT of STOCK.
SR-3 is a multiband HF Yagi antenna that covers 10/15/20 Meters with a single feedpoint. Reduced in length by more than 30% but still gives the same great performance on all three bands.  SR-3 comes with a capacity loaded 20-Meter element and reduced turning radius.
NOT CURRENTLY AVAILABLE -- COMING SOON!