VC-300DLP, HF TUNER, 300W, SWR/WATTMETER, DL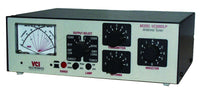 p>You can tune any real antenna from 1.8 to 30 MHz, including all MARS and WARC bands. Use verticals, dipoles, inverted vees, yagis, quads, long-wires, whips, G5RVs, etc.
has 4:1 balun for balanced line antennas.
Handles up to 300 Watts SSB PEP, 200 Watts continuous (150 Watts on 1.8 MHz).
The VC-300DLP backlit Cross-Needle Meter displays SWR, forward and reflected power simultaneously. Reads both peak and average power on 30/300 Watt scales. Meter lamp has front panel switch and uses 12 VDC or 110 VAC with AC-12 adaptor (not Inc.)
The VC-300DLP either position antenna switch lets you select two coax fed antennas, random wire/balanced line or built-in dummy load for use through your tuner or direct to your transceiver. Bypass position bypasses your tuner but keeps your SWR Power meter in line.
A built-in 50 Ohm dummy load makes tuning up your rig easy! Use it for testing and repairing your rig, setting power level adjusting your mic gain and more.
The finest components available and the highest quality construction gives you the best 300 Watt tuner that you can buy.
Product Manuals
Download Product Manual