VEC-1292K, KIT, FM STEREO TRANSMITTER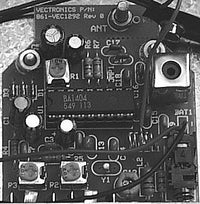 Broadcast Crystal Clear Programming on the FM Radio Band!
Lets you connect your CD player, tape deck, or other audio source and broadcast crystal clear stereo programming on the FM radio band! It gives you incredibly realistic grand movie theater sound! Perfect for use around your home or school. Use at church to assists the hard-of-hearing. Outstanding audio quality! Shown in optional VEC-1292KC all metal cabinet. Frequency adjustable 88 to 108 MHz in FM broadcast band. Use 9 Volt battery or power source 5 - 15 VDC.
Skill Level: Moderate Requires some test gear -- usually a basic multimeter for some final adjustment or tuning. Note: This is merely the kit. If you would like to purchase a case for your electronic kit as well, you will need to purchase the VEC-1292KC separately.
Product Manuals
Download Product Manual