VEC-204, ELECTRONIC KEYER W/PADDLE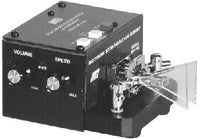 Tired of sending Morse code with a straight key? Its fun for a while. But making code sound good and easy to copy is tedious, hard work!
Vectronics VEC-204 electronic code keyer and paddle combination is ideal for sending great sounding code. By squeezing, you can automatically generate perfect code with almost no effort.
If you press the dot paddle before a dash completes, Vectronics SmartDotDash will finish the dash, make a space and then the dot!
Its so forgiving you can concentrate on enjoying your QSO -- not on critical timing. For beginners, type A keying makes sending code easy -- nothing else is sent when the dot or dash being sent is completely.
Type B keying makes it even easier to produce certain characters such as a period or letter C. If you release the paddle while a dot or dash is being sent, the dot or dash completes and an opposite element is sent.
Vectronics weight control lets you lengthen or shorten dots or dashes. it compensates your transmitter for proper 1:3 ratio.
Heres a more exciting use! Adjust your dot/dash lengths to sound distinctive. Rare DX can easily pick you out of a pile up.
Vectronics VEC-204 electronic keyer has an exclusive 500 character non-volatile MessageMemory. You can embed Message Loop and Extra Word Space commands and a serial number for contesting that increments after each sending. An LED blinks during programming and blinks faster for low memory.
It has a built-in speaker, pitch and volume controls for side-tone and speed and weight controls. Speed is 2 to 65 wpm. Pitch is 200 - 1000 Hz. Weight is 10 - 190%
Select type A or B keying. Self completing dots and dashes. Semi-auto mode lets you make dashes manually for "bug" operation. has positive and negative keying.
Has Vectronics KeyerSleep battery saver. use 9 Volt Battery (not included) or 240 VAC with optional adaptor.
Vectronics Deluxe Iambic Paddle features a full range of adjustments in tension and contact spacing, self adjusting nylon and steel needle bearings, contact points that almost never need cleaning, precision machined frame and non-skid feet on a heavy base.
Product Manuals
Download Product Manual