VEC-221K, KIT, CW MEMORY KEYER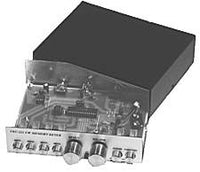 128 Character Message Memory
The VEC-221K CW Memory Keyer Kit lets you store up to 512 characters in four 128 character non-volatile EEPROM message memories. You can carry on entire QSOs by just pressing message memory buttons. True Sinewave Sidetone? eliminates key clicks with 5 milliseconds of rise and fall time -- gives you the most pleasant sounding sidetone ever heard. The LM386 audio power amplifier provides extra loud volume to external speakers.
The kit also features self-completing dots and dashes with proper timing, dot-dash memory, front panel speed (3 to 60 wpm) and volume controls. You can adjust weight from 25% - 75% and sidetone pitch from 300 Hz - 1000 Hz. Select fully auto or semi-auto mode for "bug" style operation. Select Iambic mode A or B. The kit also has a tune mode for tuning your transmitter or antenna tuner. MOSFET direct keying output keys any transmitter with positive voltage to ground keying. Totally RF proof. The kit uses a 9 volt battery (not included). The kit requires a single/dual lever paddle. It measures 1¾ x 6½ x 5 inches.
Skill Level: Simple Calls for a few basic tools -- a soldering iron, cutters, pliers, wire-strippers and a small screwdriver. Doesnt require test equipment for final adjustment or tuning.
Note: This is merely the kit. If you would like to purchase a case for your electronic kit as well, you will need to purchase the VEC-221KC separately.
Product Manuals
Download Product Manual