VEC-4001K, KIT, PROFESSIONAL FUNCTION GENERATOR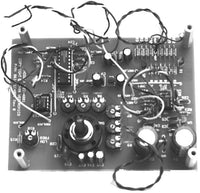 Sine, Square, Triangular Waveforms 1 Hz - 1 MHz
This professional grade function generator kit provides precision sine, square, and triangular waveforms from 1Hz to 1 MHz in 6 decade ranges. Amplitude is adjustable from 0 - 12 volts peak-to-peak. DC offset is adjustable from 6 to +6 VDC. Output is short circuit protected with an output impedance of 400 Ohms.
Includes professional quality glass epoxy PC board with solder mask and component legend, simple step-by-step instructions, high quality components, knobs, hardware and sturdy cabinet. 110 VAC.
Skill Level: Moderate Requires some test gear -- usually a basic multimeter for some final adjustment or tuning.
Note: This is merely the kit. If you would like to purchase a case for your electronic kit as well, you will need to purchase it separately.
Product Manuals
Download Product Manual