VEC-8218K, KIT, COUNTER SURVEILLANCE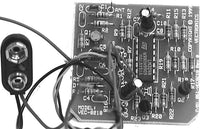 Search out and remove Electronic Bugs
This kit is a highly sensitive wideband receiver detector. Helps search out and remove electronic bugs. Protect your ideas from industrial espionage. The closer you get to a bug, the higher pitch of audio output. Lets you sweep an entire area with the monitor to find the offending device. Powered by a 9 volt battery.
Skill Level: Moderate
Requires some test gear -- usually a basic multimeter for some final adjustment or tuning.
Note: This is merely the kit. If you would like to purchase a case for your electronic kit as well, you will need to purchase the VEC-8218KC separately.
Product Manuals
Download Product Manual