VEC-821K, KIT, SUPER CW FILTER WITH AMP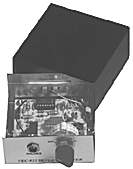 Razor Sharp Selectivity
The VEC-821K Super CW Filter Kit gives you an extremely narrow 80 Hz bandwidth without ringing and a built-in 1 Watt audio amplifier to drive an external speaker. The kits 8 poles active IC filtering uses cascaded low-Q stages -- gives you super steep CW skirts for performance that few filters can match. Narrowest 80 Hz bandwidth interference is 60 dB down 1 octave away from center frequency. Get razor sharp selectivity -- makes a desired CW signal stand alone from masses of interfering CW signals. You can select from 3 bandwidths: 80, 110, 180 Hz.
The center frequency is a pleasant 750 Hz. Get up to 15 dB of noise reduction that relieves fatigue. The automatic noise limiter knocks down static crashes and other impulse noises. It plugs into the phone jack to drive external speaker to 1 watt. The kit requires 9 - 18 VDC, 300 mA maximum. It measures 1¾ x 3½ x 3½ inches.
Skill Level: Simple Calls for a few basic tools -- a soldering iron, cutters, pliers, wire-strippers, and a small screwdriver. Doesnt require test equipment for final adjustment or tuning.
Note: This is merely the kit. If you would like to purchase a case for your electronic kit as well, you will need to purchase the VEC-821KC separately.
Product Manuals
Download Product Manual